BEA Speaker Series…Women in Technology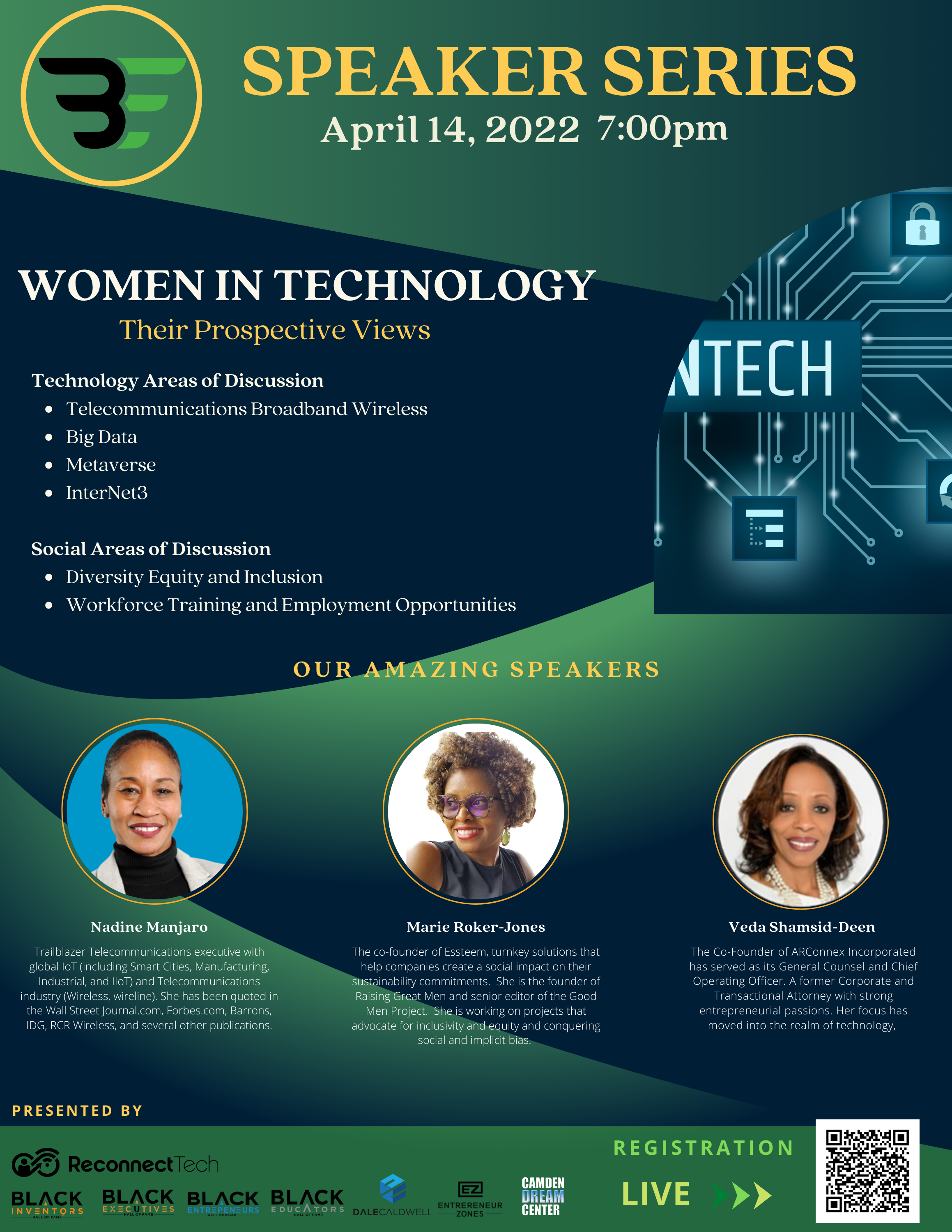 Join us on April 14th as we bring back our Speakers Series as we celebrate Women in Technology. Click the link or scan QR code to register
https://bit.ly/BEASpeakers1
Our Speakers will include Nadine Manjaro, Marie Roker-Jones, and Veda Shamsid-Deen.
The conversation will include discussions about…
Telecommunications Broadband Wireless
Big Data
Metaverse
InterNet3
Diversity Equity and Inclusion
Workforce Training and Employment Opportunities
Learn more about our speakers:
Nadine Manjaro
Trailblazer Telecommunications executive with global IoT (including Smart Cities, Manufacturing, Industrial, and IIoT) and Telecommunications industry (Wireless, wireline). She has been quoted in the Wall Street Journal.com, Forbes.com, Barrons, IDG, RCR Wireless, and several other publications.
Marie Roker-Jones
The co-founder of Essteem, turnkey solutions that help companies create a social impact on their sustainability commitments. She is the founder of Raising Great Men and senior editor of the Good Men Project. She is working on projects that advocate for inclusivity and equity and conquering social and implicit bias.
Veda Shamsid-Deen
The Co-Founder of ARConnex Incorporated has served as its General Counsel and Chief Operating Officer. A former Corporate and Transactional Attorney with strong entrepreneurial passions. Her focus has moved into the realm of technology,
This event is brought to you Reconnect Tech and our member partners, The Black Inventors Hall of Fame, The Black Executives Hall of Fame, The Black Entrepreneurs Hall of Fame, The Black Educators Hall of Fame, The Dale Caldwell Foundation, Entrepreneur Zones, The Camden Dream Center and Lloyd Media Group